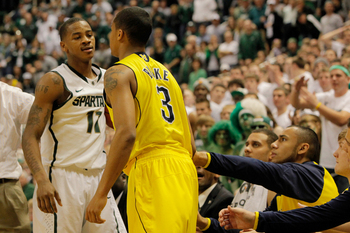 Trey Burke and Keith Appling lead their respective teams into the Big Dance
With both No. 6 Michigan and No. 8 Michigan State struggling down the stretch, many come to wonder if these teams still possess the prowess to compete in the big dance. Here are some reasons not to count out either of these teams out come tournament time.
For Michigan State, they have lost three of their last five games. They saw their ranking drop from No. 4, to No. 10, now back up to No. 8. If the Spartans could have found a way to win at least two of those games, you may be looking at the No. 1 team in the country. Going into the Big Ten tournament, coach Tom Izzo must have his team prepared and most of all hungry. Tom Izzo's squads have a reputation of showing up come tourney time and to come up big down the stretch. They have failed in one of those aspects, but could redeem themselves with a good showing in the Big Ten tournament. If the Spartans win the Big Ten tournament, they may move themselves into a No. 2 seed, if not a possible No. 1 in the big dance. Not only would it provide a better seeding, it also would provide them confidence. Another thing boding well for the Spartans is the increased performance of junior forward Adreian Payne. He is averaging 10.1 points per game along with 7.5 boards this season. Payne has also developed into a formidable three-point shooter as he is posting a 44% three-point percentage. The most dramatic improvement is his free throw shooting. Payne has an 81% free throw percentage, good for 5
th
in the Big Ten. Senior center Derrick Nix also helps provide a very tough and impressive front two for the Spartans and it always helps having a legitimate big man to help you go far in March, let alone two. Also, do not count out a Tom Izzo led team, as he is one of the country's best coaches.
Michigan has also had their fair share of troubles down the stretch. The Wolverines have lost four of their last eight games including a heartbreaking loss on Sunday against Indiana for the Big Ten regular season title. They have seen their rankings fluctuate from No. 2, to No. 4, to No. 7 and now resting at No. 6. For the Wolverines, coach John Beilein must prepare his team to make a deep run in the Big Ten tournament. To restore confidence, the Wolverines must show up and be well prepared for the Big Ten tournament. The Wolverines have been an up and down team this year, but are still a very dangerous team. Besides Naismith hopeful Trey Burke, Michigan has also had a good and up coming player in freshman Nik Stauskas. He has been a surprise this year in his development as he is averaging 11.6 points per game which is good for third on the team next to Tim Hardaway Jr. and Trey Burke. He is also shooting a team best 46% from beyond the arc, which is good for 3
rd
in the Big Ten. In the NCAA tournament, a consistent three-point threat is always a welcomed asset.
For both of these teams, even though they have struggled down the stretch more than they would have liked, are both dangerous and legitimate contenders. The Big Ten is one of the best conferences in the country, with four teams ranked in the AP top ten (No. 3 Indiana, No. 6 Michigan, No. 8 Michigan State, No. 10 Ohio State), It would not be surprising to see one if not two of these teams in the Final Four and it will be exciting to watch and see where these teams end up when the trophy is lifted and the confetti is falling.