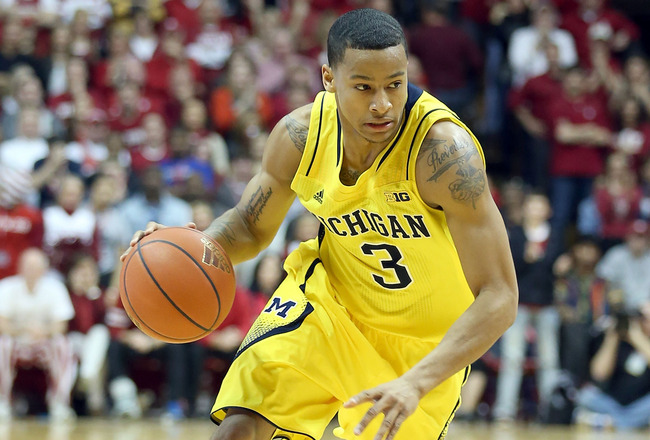 Trey Burke continues to have a phenomenal, Naismith worthy season
Michigan, the number 4 team in the land, came into tonight's heavyweight showdown against rival #9 Michigan State looking to stay perfect at home. It took everything they had to hold off the hungry Spartans as they won a hard fought, back and forth 58-57 game. Not only did Michigan stay perfect at home this season (17-0), but this win put their home record at 32-1 in the past two seasons. Tough team to beat at their home turf, Crisler Arena, and if not for crucial missed free throws and turnovers, the Spartans could have done just that.
This loss puts the Spartans at 22-7 for the season (11-5 in Big Ten) and also is their 3
rd
loss in a row. Down the stretch, this is not how Tom Izzo envisioned his Spartans performing. With two games left (3/7 vs Wisconsin and 3/10 vs Northwestern) these games almost become must win for the Spartans to end the regular season on a high note going into the Big Ten tournament. Junior center Adreian Payne led Michigan State in one of his best performances of the year with 17 points and 12 boards. Freshman sensation Gary Harris also contributed with 16 points and 4 boards. One thing that has plagued the Spartans all year is turnovers and today wasn't any different, as they committed 18 of them, including 2 in the final 30 seconds of the game. If the Spartans want to go far in March, this is one area they must improve on.
For the Wolverines, this was a much needed win as they had lost 4 of their previous 7 games, including a tough 84-78 loss at Big Ten cellar dweller Penn State. John Beilein had righted the ship in this game as he had his Wolverines looking fresh, hungry and most of all efficient. Michigan was led by none other than, you guessed it, Trey Burke as he continues to come up big in big games this year, particularly Big Ten games, as he is the only player in the conference to have scored at least 15 points in every conference game. Tonight's game wasn't any different as he scored 21 points, had 8 assists and 5 steals, 2 of them came in the final 30 seconds of the contest. Foward Mitch McGary came up with a big 11 points and 4 boards as he provided a well needed spark off the bench to make up for lack of production from Michigan's starting five minus Burke. Tim Hardaway Jr had another game to forget as he continues to struggle against Michigan State. He shot 3-12 from the field making him a combined 4-23 in two games. One thing the Wolverines have to improve on is their road/neutral site record. At home, Michigan is unstoppable, but yet almost timid on the road as they are 4-5 away from the Crisler arena, a combined 7-5 if you include their neutral site record. To improve on the road, the Wolverines need to get more consistent performances from players like Hardaway Jr, Glenn Robinson III, and Jordan Morgan and company as you can't expect Trey Burke, as good as he's been this year, to continue to bail them out of tough jams.
Both teams are still tough competitors not only in the Big Ten tournament, but also the in big dance. With the Big Ten being one of the toughest conferences in all of basketball, it's tough to say just how good each team can be as it's hard for either of them to live up to their full potential if you continue to play ranked team after ranked team night after night. It will be exciting to see just how far each team can go, if they play like they are capable of, come tourney time.