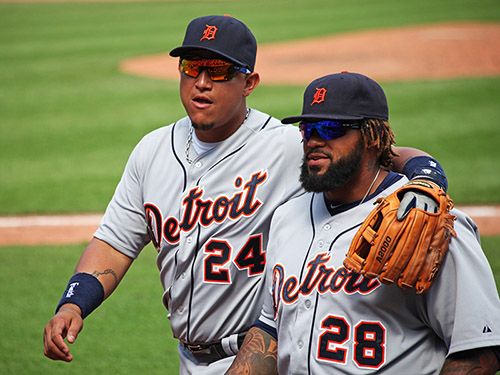 Cabrera & Fielder have become a formidable duo
Cabby working on fielding bunts
Coming into this year, as well as last, one of the biggest question marks for the Tigers was third baseman Miguel Cabrera's shape. He answered those questions last year by being more than adequate at the third base position as he had a .966 fielding percentage in 154 games, with only committing 13 errors. Let's compare that to someone who was known for his defense, former Tiger Brandon Inge. In Inge's last full season at third base for the Tigers in 2010, he played in 144 games, committed 9 errors with a .977 fielding percentage. Four more errors and an 11 point difference in fielding percentage, in 10 more games mind you, than someone who was known for his defensive prowess. Not too bad for someone who was supposed to be a defensive liability, not an asset. And this spring, Cabby looks slimmer and in even better shape than last year. Oh, and not to mention he is the reigning AL MVP coming off of a Triple Crown year.
Prince waiting for a ground ball
One thing that has always been an Achilles heel for Prince Fielder is his weight. Many critics say he could be a better defender and all around player if he slimmed down from his 275 lb frame. But statistics show that his weight has not be an issue as far as defense goes. In his entire career, Prince has not had less than a .988 fielding percentage or more than 17 errors, both coming in 2008 with Milwaukee. He is also a workhorse who plays day in and day out. In 7 full major league seasons, Fielder has not played in less than 152 games, that coming in 2006 with the Brew Crew. Bottom line, despite his weight, Prince is still a formidable defender and we all know what he can contribute offensively. Prince comes into 2013 looking sleek and trim and if he can post those defensive numbers with being "out of shape" and "overweight" I personally can't wait to see what he can do this season with a trimmer body.
Cabby is looking slim this spring
With both Cabby and Prince looking slimmer and more in shape than past years, along with the return of designated hitter Victor Martinez, pitching stars like Justin Verlander and Max Scherzer, the emergence of the hard throwing rookie Bruce Rondon and the addition of veteran Torii Hunter, this team is a force to be concerned with not only in the AL Central, but as threats to get back to the World Series....and to win it this time. I can not wait for the season to start and for this team to suit up and play under the lights when it counts.