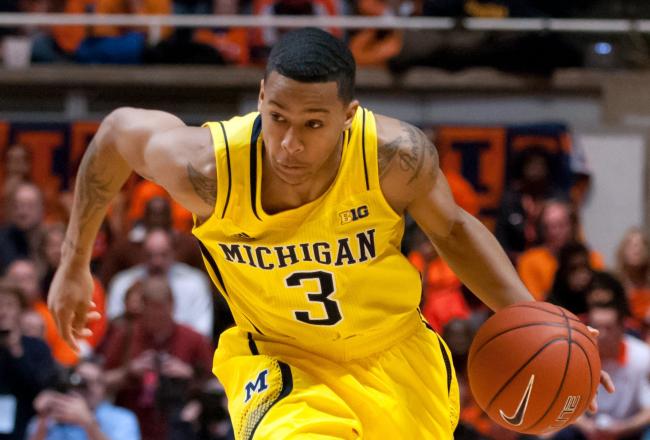 Naismith hopeful Trey Burke's effort came up too short vs Indiana
The Michigan Wolverines (20-2; 7-2 Big Ten) went into tonight's game in Bloomington ranked number one in the AP Top 25 for the first time since 1992 when the Fab Five called Ann Arbor home. In a hard fought up and down game, the Wolverines came up on the losing end of an 83-73 game against #3 Indiana (20-2; 8-1 Big Ten). Sophomore Trey Burke strengthened his Naismith hopes by chipping in 25 points and 8 assists both above his season averages of 17.9 points and 7.1 assists. A turning point in the game came late in the second half when Junior guard Tim Hardaway Jr. drained a shot to pull the Wolverines within five points, was originally ruled a two, but was reviewed. The ruling stood as called, with replays showing Hardaway's toe just striking the arc, making the basket a two point field goal instead of a three. Freshman sensation Glenn Robinson III was pretty much non-existent the entire night, being held to just 2 points on 1-6 shooting.
Indiana's efforts were led by Sophomore and Naismith candidate Cody Zeller along with Junior Victor Oladipo. Zeller led the Hoosiers with 19 points and contributing 9 boards, while Oladipo scored 17 on 7-13 shooting. Oladipo committed a questionable act in the final seconds of the game. While the Wolverines were easing up and heading back to the bench, realizing the game was over, Oladipo ran past the retreating Wolverine defenders and slammed a basket home making the final score 83-73. Time will tell whether the Wolverines will remember this enactment and do something to retaliate in their next meeting in the season finale, Sunday, March 10th at Crisler. The final meeting may end up being a fight for the Big Ten title, as both teams will continue to fight and scrap for victories in the last few games of the tough and rugged Big Ten regular season.